...
The CheatSheet Generator can also be used by lecturers to generate course specific operator documentations.
MEP
Calculator
The MEP Calculator can be used to test MEP functions and complex expressions used in Select/Join predicates. Therefore, one can enter an arbitrary expression in the first line. The tool will then call the internal precessing to estimate the return type and output the optimized form of the expression as it will be used by Odysseus, the conjunctive normal form (CNF), and the disjunctive normal form (DNF).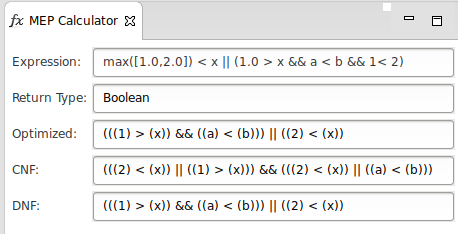 Image Added
MEP

Tests and Time/Space requirements

...